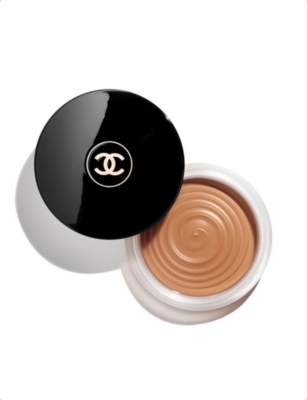 For about 2 years I've been looking at this product;
Chanel Soleil tan de Chane
l
. But I thought paying €39 for a bronzer was a bit crazy. I kept looking at makeup tutorials which included this product, and kept drooling all over my laptop. Until one day, my husband and I went to a shopping mall in Rotterdam. I swatched the bronzer on my hand, than went on drooling all over my hand. There was a 25% discount on this bronzer but still felt 30 big ones for a bronzer was too much. So I said goodbye to the bronzer, went on with our day until at the end of the day my husband said you take the kids to the car and I'll be right back. Huh? Where are you going? He said he needed some groceries and before I could say anything he was gone. Any who, went to the car, put the kids in their seats and waited for him to come. He than appeared with a small bag, and in it was THE bronzer.
This bronzer is The Best! Since it's part gel part powder it has the perfect consistency. It's not tacky at all, super easy to use and has such a natural finish. If you're very fair this might be too orange for you. I would say if you´re an NW25 or NC25 and up, this would be brilliant. I am so used to using powder products on my skin that I was a bit intimidated to use this product. But I was impressed at how easy it was to use. And it looks so natural!
I use it for contouring (around the perimeters of my face, in the hollows of my cheeks, on my jawline and on my neck. I also like to use this product all over to bronze up my skin, so forehead, cheeks, nose, chin and neck.
This -like all Chanel products- smells soooo good! Seriously, every time I use it I have to give it a sniff. It contains 30 gr. which is a lot. A little with this product goes a long way. So when you think about how many uses you will get out of this pot, it's really not that expensive. this is by far the best bronzer I have ever used.
What is your favorite bronzer? Let me know in the comments down below! Love reading your comments, makes my day :)
Want to be a subscriber? Just put your email where it says 'follow by email' to the right of this page. Click the 'submit' button and that's it! Every time there will be a new post on line you'll be notified.